Let's take a look at some of the recent sales reported by New York City's Department of Finance that took place in the North Shore neighborhood of Grymes Hill. If you're unfamiliar with the neighborhood of Grymes Hill, is located just northeast of Sunnyside, with silver Lake on its northern side and Concord, southeastern side. Grymes Hill is the notorious is one of Staten Island's more luxurious communities, however, there are some pockets of more affordable houses in the area.
From a luxury home standpoint, many of the homes in the area are of the older variety, featuring some of the best panoramic views that can be found in New York City. However, that's not to say implicitly that no new construction exists on the Grymes Hill either. Consequently, in many cases, the area's home prices are reflective of that fact. There is also a larger condominium complex that sits at the foot of Howard Avenue and Clove Road. Another series of co-ops exists on the Hill both on the Arlo Road and Seth Ct., and in this report will see some of the co-op sales. So let's take a closer look at some of the home sales of note in the area.
Well, no seven-figure sales took place on Grymes Hill, there were two particular home sales that came quite close. Back in June, 114 Dongan Pl., a 2000+ square-foot home built in 1950 had a closing date price of $900,000. Not to mention the home sat on a large land parcel 12,000 ft.². Just down the road a bit, 262 Howard Ave., a 6000 ft.² Home on the most 11,000 ft.² of property, also have $900,000 sale price back in February. So they would get you largest priced home sales in the area.
There's also quite a few co-op sales worth mentioning in this report. Three co-ops units were sold on Seth Ct. with 34 Seth Court selling back in August for $101,000, 42 Seth Ct. also close back in August for $135,900 and lastly 11 Seth Ct. close back in February for $115,000. The two condominium sales that took place located at the Howard Avenue complex was the sale of 550B Howard Avenue having the closing day price of $116,000 and 562B Howard Avenue settled up at $155,000 back in April of this year.
So there you have it, some highlights of the more notable sales in the area. However, if you're looking for more home sale data on Staten Island, you can follow the corresponding link. I would also like to mention that home sales in this report may or may not be those listed and sold by licensed real estate brokers or their associates. All information in this report is derived from the latest release of publicly recorded and reported home sales issued monthly by the New York City Department of Finance. Below is a list of other home sales in the area and those with a sale price of N/A means the home was transferred on the closing day but without money considerations. If you're looking to learn more about the neighborhood of Grymes Hill or if you're interested seeing latest Grymes Hill Staten Island homes for sale by following the corresponding links. So, that's what we have to today see you soon next Staten Island neighborhood real estate sales report.
Address/Property sq. ft./Interior sq. ft./Year Built/Sale Price/Sale Date
34A SETH COURT, 34A 10301 / 0 / 0 / 1951 / $101,000 / 8/24/2011
159 ARLO ROAD, B 10301 / 0 / 0 / 1951 / $105,000 / 8/12/2011
42 SETH COURT, B 10301 / 0 / 0 / 1951 / $135,900 / 8/8/2011
(more…)
So, let us take a look at some recent home sales in Princes Bay on Staten Island's South Shore, as reported by New York City Department of Finance. If you're unfamiliar with where Princes Bay actually sits on Staten Island, it's just slightly southwest of the town Huguenot and just east Pleasant Plains. One of the popular residential developments in Princes Bay area, is Captains Quarters. It just so happens in this report is quite a number of home sales in the development. It's also important to remind folks that Princes Bay, has a better than average number of luxury home developments, including the estates at Johanna Ln., consequently, higher-priced homes are more common in the Staten Island neighborhood.
So, let's take a look at some of the more notable sales in the area. Taking the price cake in this report was the sale of 6 Terrace Lane, a single-family home measuring up at over thirty-five hundred square feet of interior living space had a sale price of $966,000 back in June. It was a more recently constructed house built in 2007, not to forget mentioning the house sat on over twelve thousand square feet of property. Pulling up just behind the Terrace Lane home sale on the price chart, was the sale of 115 Bayview Ave., A new construction home measuring up at just over twenty-two hundred square feet. The homes sold just slightly over $813,000.
In Captains Quarters Development there a few home sales of note. 621 Johnson Ter., Home the just sits on the Princes Bay Waterfront had a sale and a price of $475,000. Consequently, that wasn't the highest priced sale In Captains Quarters Development, the sale of 54 Admiralty Loop, 1900+ square foot townhouse the closing day price tag of $480,000. With some of the home sale numbers with seeing in this development it's understandable why we're seeing healthy home values.
Below is a rundown of recent home sales in the Princes Bay community of Staten Island. Homes in this report are derived from the latest release of publicly recorded home sales by the New York City Department of Finance. The homes listed in this report may or may not be those listed and sold by licensed real estate brokers and/or their associated salespeople. Homes marked with the price of N/A means the home was transferred on the closing date without money considerations. For a complete rundown of area home sales or the latest real estate listings in the Princes Bay community could follow the associated links.
Address/Property sq. ft./Interior sq. ft./Year Built/Sale Price/Sale Date
182 UNCAS AVENUE 10309 / 11,671 / 4,200 / 1980 / $720,000 / 7/29/2011
54 ADMIRALTY LOOP / 10309 / 1,866 / 1,908 / 1988 / $480,000 / 7/27/2011
183 UNCAS AVENUE 10309 / 11,660 / 3,500 / 1985/ N/A / 7/27/2011
433 SEGUINE AVENUE 10309 / 8,456 / 2,152 / 10309 / 9,454 / 2,160 / 1899 / $0 / 7/18/2011
11 KNOX STREET 10309 / 5,152 / 2,464 / 1960 / $622,000 / 7/8/2011
46 BAYVIEW LANE 10309 / 5,510 / 3,000 / 1998 / $350,000 / 7/7/2011
34 SEGUINE LOOP 10309 / 2,500 / 2,568 / 1999 / $462,500 / 6/30/2011
(more…)
March almost took a photo of February home sales data and handed it in to us¦ March saw 187 home sales take place that™s a small bump upward from February™s 183 residential units that sold. So, what do the numbers say about the market currently, not a whole lot. The not so good news is, Staten Island has seen fewer than 200 residential sales in all but three of the last twelve months. On the other hand, actual home sales seem to have reached a post homebuyer tax rebate equilibrium. Meaning home sales have not dipped or rose in any sustained trend in the last 8 months.
 
In the three months ahead it will really be a tell tale sign whether the Staten Island real estate market is, in fact, improving overall.   Painstakingly for many, waiting for some progress in home sales, is like watching oil paint dry on a humid summer day. As the post-tax rebate housing market settles in, there is little indication in some key fundamentals that you could garner a healthy sense of optimism yet.   Why? Of the key fundamentals, two are still weak, one is getting better and the other is a bit trickier.

 
First, unemployment remains the biggest hurdle the real estate market  faces. Slice it, dice it, or purée it, personal income supports housing. Every other factor is secondary. It™s quite simple, what do people usually pay a mortgage with? ¦Enough said. The good news is very slowly, things a getting better with unemployment. Under-employment is an issue as well. Today, the Wall Street Journal reported job growth reached a two year high.
         
Second is inflation, once the labor market improves interest rates will likely spike higher. That being said, rates remaining under 5 percent over the long term are like believing in the tooth fairy. Its good while it lasted, but it™s an event unlike we will see again, then again, who knows. History debates the theory that rates really have little impact on home sales. If it is the case, I™ll throw away the record book on the theory. A portion of many homeowner's value rests in the interest rate, if you jack that up, someone has to pay, and it isn™t likely to be the buyers.
 
The wild card in the equation¦ A healthy sense of optimism in the economy. Quite frankly, while consumer sentiment is tabulated, its impact can be underestimated. It is quite simple, this may be the biggest issue with the broader economy and more importantly the housing market. However, things are improving slowly in that arena as well, as a sense cautious optimism is building. That in itself is much different when this whole thing came undone a couple of years back.
 
By the numbers¦
Total amount of home sales for the month of March was 187 units. (One and two family homes, including condos and co-ops)
 
The median home sale price for March home sales stood in at $380,000.
148 days was average days on the market it took to sell a home in March. (more…)
There are two open houses on the docket for tomorrow.
297 Rennselear  Ave. in Annadale.
This four bedroom new construction home has a scheduled open house for this Sunday, March 27th from 1-4pm.
The home features radiant heat, master bedroom suite  with every aspect  constructed  to detail. From four inch crown molding, to majestic domed ceilings, it truly is  a home that sets itself apart from the crowd. The home is located on a quiet dead end street, concealed by protected pa
rkland abutting the property. Hardwood floors are featured throughout the home, except for the new granite kitchen and entryway, which fully tiled. A formal dining room and living room complete this fine tuned high end home.
.
Sunday's  open house will be hosted by the home's listing agent Stacey Fadl. For more information, directions and specs on this Annadale home, you can call 347-349-0158 or 718-668-0423. You can print a copy of the  297 Rennselear Ave. listing  or find a map of the location by following the respective links.
18 Dawn Ct. Tottenville, Staten Island will also have an open house from 12-3 this Sunday.
 
While this home isn™t new construction, it™s just as good.
 
This practically new side hall colonial with four bedrooms is located just off Page Ave. in the Tottenville section of Staten Island
.
From a dramatic entryway, to the master bedroom, right down to the rain sensing sky lights, this home say™s luxury right through the front door. This home features four bedrooms, with enough closet space in each to store a Mini Cooper. It™s a truly a spectacular and awe inspiring home.
 
This open house will be hosted by the home's listing agent as well, Elizabeth Del Priore a licensed sales associate with RealEstateSINY.com. For more information about this open house you can call 917-816-1519. For a copy of the 18 Dawn Court listing or a map of its location, you can follow the corresponding links as well.
For a rundown of weekend open houses on Staten Island you can visit our website at RealEstateSINY.com. Have a great weekend all and hope to see you at one of our open houses this week.
February home sales on Staten Island jump 2.3%…
 
Well slow and steady seems to be the theme of Staten Island™s real estate market. It appears at this point the dips and valley the market was experiencing over the last few years was really about the start and stop of government programs looking to
spur the housing market. It worked to a large degree, but on the flip side it created some tumultuous dips and valleys in the stats. Some of those dips were rather unnerving to analysts, as uncertainty about the lasting effects of the large dips in the real estate market.   Last year from June to July, the market saw one of the most lopsided monthly home sales totals moving from 425 sales in June to 165. That is one scary elevator ride, like free falling 20 stories before stopping at the next floor. As time moves on from the tax credit, although tumultuous in the months following, the market is now carrying its own weight.
 
The Staten Island™s real estate market is simply setting a pace, but for most it™s nothing to cheer about. February™s numbers are reflective of that. Again, like last month™s home sales numbers they are within the bounds of year to date averages, excluding June. However, I must say things are slower in terms of sales volume within the year to date averages, and that is a bit of not so good news. For those unfamiliar with year to date averages are. It's basically the 11 months prior to any specific month. For example, the averages in this report are run from a period of March 2010 to February 2011.
So let me dissect some of the numbers. There were 188 home sales on Staten Island in February, that™s a jump of 2.3 percent from January. With 26 59 homes available, The amount of actual homes for sale on Staten Island is it at the lowest in at least 6 years. The average ask to sell price for homes that were sold in February on Staten Island is 94.19%. What that means is sellers discounted about 6% of their list price to sell in February.   The year to date average list to sell price is 93.65%.
 
Most sellers often ask about how long it takes to sell a home on Staten Island? Well here you are¦the average for February, of the homes that did sell, was 145 days. That™s still problematic in my view, 145 days is an awful high amount of time. While the market is slow, I took the liberty of running my own numbers   last year, and it took me an average of 78 days to sell my inventory that™s a whopping 44% better than the year to date market average, all while achieving   nearly 95% of list price.   So, as you can see, some individual agents can outperform the market. Okay, I gave myself a pat on the back. It™s the first time I ran my own numbers, and I was a bit surprised, for the good of course. My point is this number is more reflective of setting better expectations on the part of sellers, if done correctly it shouldn't take as long as it does to sell a home, even with market conditions being what they are.
     
In February, The average sale price of a home on Staten Island took $406,413 to close.   That's a bit lower than the year to date average of $409,156. The Median Sale price was also down a bit coming in at $ from a year to date average of $381,000. Moving forward these numbers need to be watched moving forward. However, they are not reflective of any move downward as they remain within the bounds of the yearly highs and lows. Basically, it™s been nearly status quo for months now. One thing I can say is, I don™t think that™s going to change much in the coming months. Until next time¦ If you need any insight on what your home may sell for, be sure to contact me at (718) 667-0423 or anthony@realestatesiny.com
 
Looking for a home with some serious elbow room, our latest listing located in Sunnyside, Staten Island offers that and quite a bit more.
 
Let™s start with the property size the lot stands in a healthy 6400+ square feet. For some folks that have sought a home on Staten Island, that™s considerably above average for many homes in the area. This all brick ranch home has a building dimension of 31×45. Consequently, for a ranch home, like the property, its larger than most. If you™re a bit of a car enthusiast or just need some serious storage this home features a detached 2 car garage which  sits on the property as well. However, let™s not overlook the home itself.
Several years ago the home underwent some serious upgrading and updating. Traditional hardwood floors are the theme throughout this home, seamlessly integrating each of the home's rooms. As you move about the home you will notice details were not forsaken as part of the upgrades. Six panel solid hardwood doors and molding enhancements are noticeable throughout the home.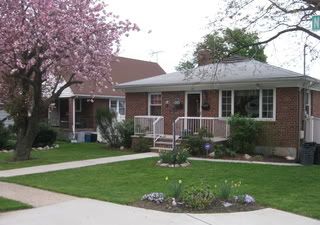 As you walk into the home you will find the homes very traditional formal living room, which is a warm and inviting to anyone who enters. Quite frankly, it™s those little enhancements like the doors and moldings that bring the home a sense of uniformity and cohesiveness to the interior aesthetics. Consequently, while parts of the home are upgraded, nothing about looks out of place as you move from room to room.
 
One thing you will notice as you move further into the home is the 15 foot addition to the rear of the home. And believe me, while this addition seems rather innocuous viewing the front of the home, there is a big difference between this home and other ranch style homes most homebuyers would come to know.
 
A lot more came with the homes upgrade, including a brand new kitchen updated kitchen, Granite countertops, stainless steal appliances
and hardwood floors. The layout is more than most might expect in a ranch style home, which traditionally sees the kitchen on the smaller side. The layout of the kitchen is open and airy, so much in fact, that the natural light spills in without the need for a single light during daylight hours. The kitchens vaulted ceiling allows for an over sized crescent window that nearly reaches the ceiling's peak, hence it allows for an amazing amount of natural lighting. It™s truly a unique and great feature to this home. Fitted with large pantry closets and island, the room is accommodating for guests and a well sized family. I would say this room is more than just an eat-in kitchen, it™s more like a dining room/kitchen combination. For one thing, you won™t feel disappointed once inside yourself.
With the extension, the homes two additional bedrooms were enlarged with newly installed hardwood floors and enhanced closet space.   The home features two fully updated and upgraded baths. The main bath is full sized, and features traditional décor, as a new pedestal bathtub and sink and ornate tile were all recently upgraded.   So, while the bathroom fixtures and overall aesthetics look traditional, they are all new. Additionally, a central air-conditioning system was installed as part of the upgrade.
 

The homes square foot space is listed at 1,539, but is a whole bunch more than that. You might ask why? Basically, the basement is included in the homes square foot calculation.   As you move downstairs there is a whole bunch more living space. So, it™s pretty much like doubling the living space of the home. This completely finished basement is something to behold. You have a full sized family room with gas burning fireplace, wet bar, a new full sized bath and laundry room. So, without a doubt, whether its hosting a party or the need for some play space for the kids, there is some serious entertainment space in this house. Not to forget mentioning, there is a portion of the extension that allows for a whole new room to be added to this already large living space you find here.   There is another added benefit to owning this ranch home; you easily open to expanding the home to include another floor down the road. With a 31×45 foundation, that™s quite house. Its just another thing to think about when considering this home.
 
To top off this great Sunnyside home, the commute to Manhattan, Brooklyn or even New Jersey it™s probably one of the best locations on Staten Island for commuting. Express bus service to Manhattan runs from nearby Victory Boulevard. The drive is just as easy with the Staten Island Expressway and Verrazano Narrows Bridge
to the east into Brooklyn and Goethals Bridge to the west into New Jersey.
 
Parks and recreation facilities are literally down the block, Clove Lake Park and Clove Lake Golf Course, and War Memorial Ice Skating Rink are all located on Victory Boulevard and are within a short walking distance of this home.
 
If you™re looking for an updated and upgraded home with a considerable amount of elbow room, with the convenience of being one of the best commuting locations on Staten Island. 22 Northern Boulevard in Sunnyside, Staten Island is one place to consider. If you're visiting from Brooklyn the home is located off the second exit from the Staten Island Expressway, which is the Richmond Road/Clove Road Exit, take that to Lebau Ave. and make a right to Northern Boulevard, the home is on the corner.
For a more detailed listing of 22 Northern Boulevard, Staten Island by following the link. Or call RealEstateSINY.com Licensed Real Estate Brokers at 718.668.0423
According to our very own Staten Island Chuck, this year there will be an early end to the arduous winter we™ve had to endure.   With thoughts of spring on our mind, coupled with some good old cabin fever comes the need to head out to the great outdoors.   As a Staten Islander, I can™t think of a better place to acquire some sunshine than in Rossville™s Bloomingdale Park which many of us Islanders have branded the œCentral Park of the South Shore.
This 139-acre park has been the perfect location for hiking enthusiasts, being that the majority of the park has been left natural and preserved for wildlife but yet giving way for scenic waterways, walking trails and even a bike path.   Completed in 2004, 15 acres of the park was developed to include a playground with shower sprays and swings, along with a comfort station. The park also offers a baseball field, softball field, soccer field basketball courts, and even a bocce ball court.
For those of you unfamiliar with Rossville, its location is just Northwest of Huguenot.     It is an area of Staten Island that houses many of the newer homes built from the 1980s on.   Built in 1997, our latest listing located at 843 Rossville Avenue is just such a home.
Priced at $479,900 this lovely oversized, two-family semi-attached home is centrally located in the heart of Rossville near the Woodrow Shopping Plaza and just a short ride from the great Bloomingdale Park.     This home™s location has no shortage of transportation with the x22 taking you to Midtown, New York City in under an hour and the local buses pretty much taking you anywhere you™ll need to go on the
Island.
With 2,553 square feet of home, you are greeted by its gleaming hardwood floors upon entering and the living room/dining room combination gives an open airy feeling. The ceramic tiled eat-in kitchen is oversized to say the least.   Also there is an extra perk of a family room off the kitchen that has glass sliding doors leading to a large deck and private yard.
This 3 bedroom, 4 bathroom home, has a large master bedroom suite that will give you a little piece of serenity to come home to after a hard day™s work.   With beautifully installed bamboo hardwood flooring the master bedroom also has the luxury of a four piece master bath as well as his and her closets, or dare this woman say  his and her™s?   Don™t worry there™s a whole full finished basement with a den and utility room where hubby can keep his clothes. There is also a large studio apartment is also located on the basement level of the home.
Overall this home at 843 Rossville Avenue, priced at $479,900 is a great deal for a great home in a desirable area of Staten Island.   For more information or to schedule an appointment please call Valerie Bartolone, Licensed Real Estate Agent and Realtor ® at 917-733-5240.
We have added several features to more easily navigate home for sale listings on Staten Island.
 
New Construction
First if you™re in the market for recently built homes  or  new construction on Staten Island you can find all the latest homes on the website. Need to see any of these homes? Just make an inquiry request on the listing, we™ll get you all set up to view these homes.
 
Luxury Homes
If you™re in the market for luxury homes for sale on Staten Island, our website features them all. Whether it's Todt Hill, Emerson Hill, Dongan Hills Colony, Princes Bay or others, we have a page set up to find any home you like. No crazy navigation or pages full of clutter… We keep it simple, but effective.
Need expert assistance? We™re more than just a website; we™re your local real estate brokers.
 
Stay tuned… more great tools ahead.