I have often been asked the question, what is the difference is between a mortgage broker and a mortgage banker.       In short, a mortgage banker makes loans and a mortgage broker originates loans for mortgage lenders.   I have worked both from a banking platform and currently from a broker platform.   Let™s take a closer look at how working with a mortgage banker or mortgage broker will affect you the borrower.
If you choose to work with a mortgage banker you will be considered working directly with the lender of your loan.   When working with a mortgage banker your financial stability will be compared to the overall federal guidelines of mortgage lending as well as any overlays with the bank.   An overlay is a guideline specific to that particular banking institution.       Also, you will work with a Loan Officer who prepares your loan application and submits it directly to their underwriting department for approval.
   
The pros and cons of working with a mortgage banker is that you loan process is overseen by your loan officer who is in close contact with their underwriting department.   This will enable the loan officer to deal with any issues that may arise in a timely fashion.   Of course, that is the way it should be but that does not always happen.   Sometimes the larger the lender, the larger the underwriting department and that could allow for delays as thousands of loans are in process at any given time.     The smaller the lender, the smaller the underwriting department which also allows for delays if understaffed in comparison to loans in process.   In regard to loan programs, a borrower is limited only to the programs offered by that particular lender.   If you do not fit into the particular program of that bank a borrower must then seek other mortgage bankers that have programs that fit their financial needs better.
A mortgage broker, on the other hand, does œcomparison shopping for the borrower.   In other words, brokers work with dozens of banks and even dozens more programs that will give the borrower an ample amount of loan programs to choose from.     This is an asset especially in today™s mortgage environment as borrowers struggle to fit into to stricter and stricter guidelines.   A mortgage broker may work with large lending institutions or smaller lenders with unique programs.     A borrower may not have the time to call each bank and find out what programs they offer, that™s where working with a broker pays off.   The broker does all the research for you.
 
Ultimately, a borrower will receive their loan from a mortgage banker but they don™t have to start there.   In fact, a very large percentage of mortgages in the United States originate with brokers.   In the end, a mortgage broker™s job is to find you a mortgage lender that will fit your needs.   In turn, that mortgage banker will then lend the money and service the loan.   Mortgage Brokers are known as TPO™s or third party originators, which mean they are the go between for the lender and borrower.   Only mortgage bankers can make a loan, mortgage brokers cannot.
At last we come to rates¦..Well, again it™s the same issue; if you go to one bank you get one bank™s rates.   If you go to a broker you can get a choice of rates.   In the past, upfront fees from brokers tarnished the broker™s image.   However, changes in the overall mortgage industry have regulated such fees down the penny almost for both bankers and brokers.       Also, mortgage brokers work with the wholesale side of mortgage lender which often allows for lower rates.     The wholesale lenders compete for the brokers business so rates are very competitive.
In the end, it all still comes down to one word, œqualifying.       Wherever you choose to go you will definitely need several loan programs to choose from so you can find a perfect fit.   And one more important factor is the Loan Officer themselves.   I firmly believe there has to be a level of trust there or it won™t work whether they are a broker or a banker.
As always call or email me at 718-689-2541 /jrahner@simortgagegroup.com with any questions!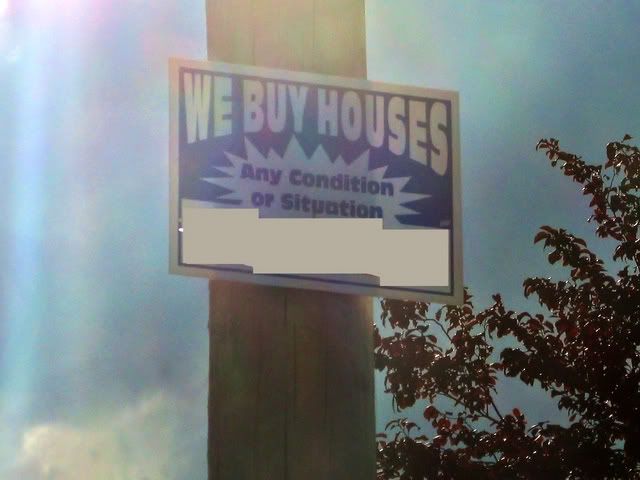 Everyone knows financial distress has become mainstream news these days, and like weeds after a wet spring, signs like the one above  begin to bloom like dandelions on street poles around New York City™s outermost borough.
Well here I go, let™s just start by saying the first step of the business practice is illegal, because posting ads on public utility poles are just that¦ Illegal. So, it stands to reason if they haven™t figured that out yet, where will it lead those who seek this sort of œhelp with a possible distress situation.
Well for those choosing to explore what exactly happens when you call, I™ll save you the anxiety, and tell you what you™ll hear. Usually, like any good scam starts, you will hear a robot recorded message giving you a host of options like; press one if your behind in your mortgage or in pre-foreclosure; press 2 if your home is in disrepair or you leave overturned garbage pails on the lawn; press 3 if you like to leave your wallet on the mailbox next to the sign you saw while taking down this number¦etc. I guess I™m lying on a bit thick, but I™m sure you get the point.
.
In all the wit and wisdom that went into this genius marketing plan, I™m sure that the solicitor would leave a business name and website on the message. Well folks they did, and in quick fingered fashion I typed in the web address. One you get there you will find a tab œBuy a House there you can request a list inventory or you can be œmatched up with œour available inventory as opposed to seeing the available inventory. Hmmm, I guess this could constitute engaging in the practice of real estate, which of course these œpros forgot to be licensed as real estate brokers in New York State. However, let™s give these marketing mavens a bit of credit, they were a bit ambiguous, I™m sure intentionally, as to skirt the law. You are allowed to sell your home on your own; matchmaking though is a bit different, that would be the same as brokering.
 
I™ll save the best for last, these pro™s even state on their homepage they can help you buy a home if you don™t like working with Realtors ®. Yes, avoiding licensed real estate people sure makes some sense when buying a home.  With that, I will leave you with Caveat emptor, and goodnight.
A point of note: (more…)
I™ve just sold a Town-Home property at 60 Poplar St. in Staten Island. Come and visit my site to see other properties in that area. If you are interested in looking for or selling your home, please Contact Me.
I™ve just sold a Duplex property at 23 Linda Ave in Staten Island. Come and visit my site to see other properties in that area. If you are interested in looking for or selling your home, please Contact Me.
Saturday July 10th, from 12pm " 2pm
This Huguenot High Ranch home sits on dead end cul-de-sac and is offered at $499,000.
Are you in the market for a fully detached home under 500,000 on Staten Island™s South Shore? Best is this relatively young home carries a considerable amount of upgrades. From a new kitchen with Corian ® countertops, new windows including to front bay widows, vinyl siding, and central air conditioning unit this home puts you ahead of the financially when it comes to long term maintenance.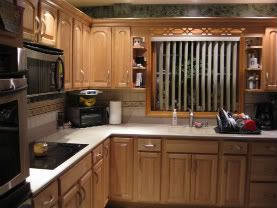 Among many upgrades to the interior the home features an above ground pool, private back yard that borders a passive park. The home features 4 Bedrooms; 3 Bedrooms on the 2nd level and an additional bedroom on the first level with summer kitchen and separate side entrance. See more information on 22 Maple Court <here, or Come to today™s open house to good look at this great home at a great value.
I have been coming across several articles lately regarding low mortgage rates but minimal loan applications.   I find this a fascinating topic.   How can this be?   Rates on a 30 year fixed can found averaging 4.58%.   AMAZING!   But why are mortgage brokers and bankers not being flooded with purchase loan applications or refinance applications?
In short, would be borrowers have been decimated by the collapse of the housing market in recent years.   The effect has been profound in many ways.   First and foremost, the incredible loss of equity in homes across the nation has been devastating.   I myself saw an investment property I own just outside Sarasota, Florida drop in value from $550,000 to roughly $290,000.   Now of course, Florida was one of the worst hit areas and I did buy at the height of the market.   Yet, this is a great example of why lows rate do not matter in the market.   I have a 30 year fixed rate mortgage on that property at 5%.   However, I have absolutely no equity whatsoever and will fail to have equity for years to come.       I cannot refinance to a lower rate or sell it to cover my existing mortgage.   I just keep it fully rented and understand completely that I am in it for the long haul and I know I am not alone.
This is probably an extreme example but the principals are the same.   Many Americans do not have the ability to refinance to a lower rate because their home either lacks in equity or even worse a job loss leaves them completely without options.     And that brings us to the even larger issue of unemployment that has wiped out both purchase loan and refinance loan markets.   I find even if a borrower is able to obtain a new job they remain very reluctant to assume any new debt fearing a job loss again in the near future.       Obviously, a cash out refinance is even more difficult these days with diminished equity in homes and consumers being skittish in regard to new debt.
What does this all mean?   One must assume improvements in the job market will soon be followed by improvements in the mortgage market.   We can™t have one without the other¦¦..  
As always call me with any questions at S. I. Mortgage Group and check out my new website at www.JenniferRahnerSIMG.com
With 419 sales* of one and two family homes on Staten Island for June, it represents the highest sale total since the financial crisis unfolded. The last time Staten Island saw over 400 home sales in one month was June 2006. If you™re looking for a yardstick to gauge the success of Federal Homebuyer Tax Credit, you needn™t look any further than June™s sold data to see it worked.
 
Besides total home sales, other numbers see improvement.
 
Month™s inventory dropped to a little over 6 months, this number represents how many months it would take the current available inventory to sell off. However, June™s inventory number is more likely to be an anomaly of the tax credit than any other factor. In a strong or emerging real estate market the home inventory number sits at around 6 month territory or below. Just prior the peak of the real estate boom in 2004, the home inventory numbers sat just under 5 months. I™m not taking this number too seriously in this report, as I said earlier it™s likely to be a byproduct of the Federal Tax Credit.
 
Average days on the market dipped to 129 days about an 8% decline from the prior month. Ask to sell ratio was in lockstep with April, with the average home selling at 5.71% discount off its list price. However, it™s a little surprising seeing the amount of sales  for the month.
 
Has the tax credit impacted prices of homes sold on Staten Island?
 
Taking a look at the median sold price and average sale price data from this past month, it has had some impact. It should come with little surprise either, as I highlighted the impact of supply and demand on real estate prices in a prior post. As demand mounts, prices are pushed higher.
In December, 2009 the Average home sale price reached $416,273, which was the expiration of the prior homebuyer tax credit. Back then, the average home sale price jumped to its highest point after 12 months of a mixed downward trend, a similar tone was taken with the current tax credit. The average sale price for June on Staten Island was $410,000, about a 3% increase over the year to date average of $396,659.
Below highlights the average home sales price trend over the past 18 months with the red lines representing the key deadlines in the homebuyer tax credit. (The current tax credit was officially extended to September 30, 2010, as of today)
*Source: SIBOR MLS Data