If you™re in the market for an affordable priced home on Staten Island™s South Shore, our newest listing on 60 Poplar Ave., in the Rossville section offers its next homeowners refined décor and a deceptive amount of well sized living space.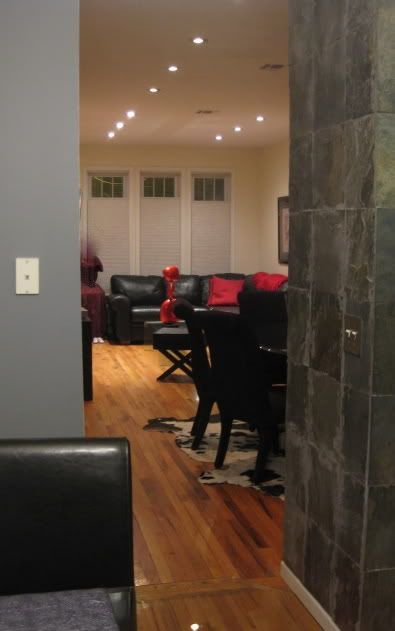 When most people think townhome, they think small is the theme that will resonate with them most. However, don™t let the word townhome offer up the feeling of complaisance about what a townhome, especially this townhome, can offer.   As you arrive, the home, and enter inside, the home offers up a Soho chic modern décor, which give the interior a very City like feel.   The recessed, dim controlled, lighting takes command of most of the first floor interior, and enhances the homes 10 foot ceilings. Hardwood floors sit in the living room/dining room combination, a newly renovated bathroom and eat-in kitchen are also located on the entry floor. The kitchen was updated with all new stainless steal appliances, and also features glass sliding doors to the homes rear deck.   The homes backyard features a fantastic rear deck, which gives this home a wow factor you™d not likely expect. With the spring and summer months just ahead, it makes a great addition to this immaculately kept and decorated home.
 
As you arrive on the home upper floor you will find all three bedrooms, including the homes master bedroom. Inside this homes well sized master bedroom you will find it more than just ample space, but allow you to fit nearly sized piece of furniture you desire. The master bedroom room features vaulted ceilings with recessed lighting, which is dim controlled, creating a sense of openness that can sometimes feel absent in most standard sized townhomes. The main bath is located just outside the master bedroom and is just amazingly decorated, which j
ust like the homes first floor bath, features the popular modern Vessel Sink. Just down the hall you will find the homes other 2 well sized bedrooms.
Moving to the homes lower level you will find even more great space. The lower level features its own entrance, as well as a staircase to the homes main level. So, what will you find as you move through the entryway? Here you will find a kitchen, living room, bathroom and a nice sized bedroom, and like the rest of this home, it™s kept in impeccable condition.

 
If you™re in the market for a home that defiantly captures a sense of high end living, offers a considerable amount extra living space, and most of all within a first time homebuyers budget. 60 Poplar St. in Rossville, Staten Island is a good bet to please your best expectations in your next home.
For information on this   real estate listing or to schedule an appointment for a viewing contact: Anthony Licciardello at 718-924-4856 or See more photos below.
 Photos of master bedroom and kitchen.